-
-
Why I Use & Recommend Olark Live Chat
Why I Use & Recommend Olark Live Chat
As an eCommerce business owner and marketing expert for over 12 years, I can attest that Olark Chat is one of the most efficient and reliable live chat solutions out there. When it comes to efficiency and reporting, I have a knack for finding the most productive tools out there to make my job easier. I've worked with many different clients that use various types of chat solutions but very few are as easy to use and as robust as Olark. I recommend Olark to every single one of my marketing agency clients and they all enjoy using it as much as I do. Some of the key features that make Olark a true asset to my agency and eCommerce business are going to be discussed in this article.
Setting Up Olark is As Easy As 1-2-3
When I start my day in the morning, I usually have about 20 pending tasks and 100 unread emails to go through. The last thing I want to do is learn how to use software that requires a big learning curve. And if you're like most of my clients, you don't have time to learn how to use software that is difficult to operate. Unfortunately there is no software out there that doesn't require a little familiarizing and leg work to get up and running but Olark makes it extremely easy.
First, when it comes to setting up Olark chat for your website there are tons of automated ways to do so if you're using a modern website management system like WordPress, Wix, Squarespace, Magento etc. Typically, you can install the Olark app to your website by searching your website's app store or plug in directory. Below is an example of how to find the WordPress Plug in for Olark Live Chat, be sure to choose the right plug in by checking to see if it's made by Olark.
If you're not able to install via an app, you can always just copy a few lines of code to your website just like you would when you're setting up Google Analytics. It just requires a code that goes on the header of your pages to trigger the chat window that communicates with your Olark Account. Below is a video demo of how I was able to install Olark in less than 2 minutes using WordPress.
Once you're finished setting up the tracking code, you can begin to customize your account. Olark has a really great page that gives you tips on how to make your chat box look pretty, how to customize the text that appears in your chat box, how to designate email addresses for messages and how to setup your profile. I highly recommend visiting Olark's 5 step setup guide page to get the most out of your setup without over complicating things.
Extremely User Friendly Management
Personally, there are two features that I always use and I'll share those with you now. It's worthy to note that I've been using Olark for my eCommerce business https://www.mobilityscootersdirect.com which is a nationwide retailer for mobility scooters and power wheelchairs. Prior to using Olark, we only communicated with our customers via phone or email which at the time seemed sufficient enough. After adding Olark, we realized we were missing out on a ton of opportunities for sales because a lot of customers do shopping while at work and they're not able to pick up a phone and call during working hours. Let's dive into the features that are available with Olark which have helped me generate thousands of opportunities for sales.
The Auto Greeter Feature
First, I'd like to talk about the Auto-Greeter feature, the name is pretty self-explanatory. It will send a message to your new users automatically. This can save your employees time because they won't manually need to greet your new visitors.
The setup page for the Auto-Greeter is found on the left side menu. If you click on it, it will give you a very simple set of options. You can choose to show new users a templated greeting after a certain amount of seconds that you select from a drop down. Make sure to take advantage of this option, I set my template message to go off after 60 seconds. Make sure to click the off switch to turn on the auto greeter before saving.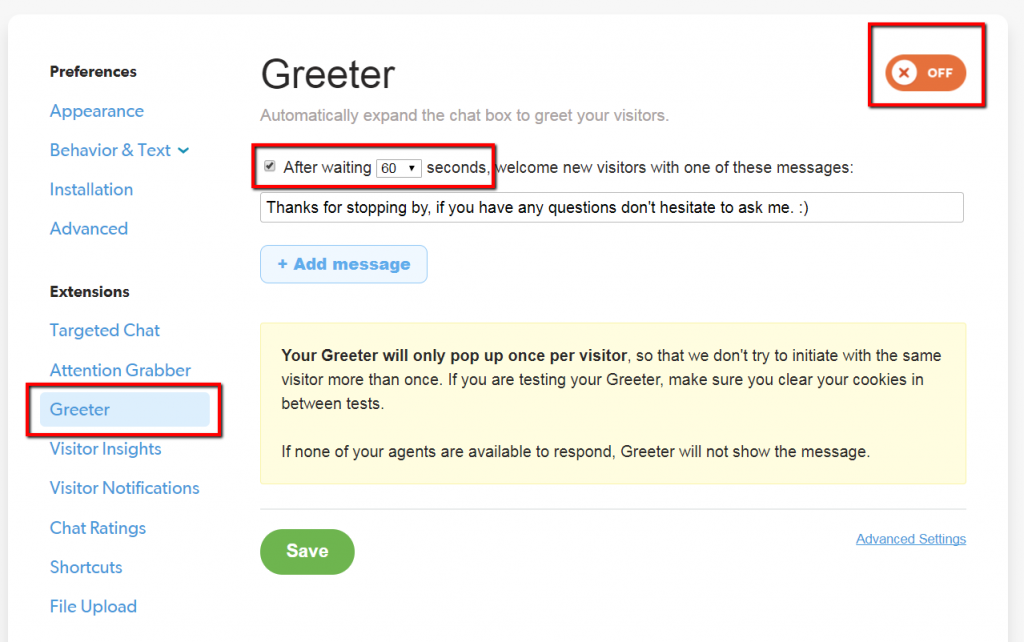 The Targeted Chat Feature
Targeted chat is another great feature that you can use to send custom message templates to users based on what page they're on. If you go to the "Targeted Chat" section from the left menu of your Olark account dashboard, you'll notice a custom chat message pop's up from Olark's staff asking if you need help with setting up Targeted chat (KUDOS to Olark) which is a great example of this feature being put to use.
To setup a targeted chat message, simply choose the URL of the page that will be used to trigger the custom message when a user is on that page. For example if you want to offer assistance to customers on the checkout page, you can enter your check out page URL and then send a message offering support in a live chat.
There are plenty of other great reporting features but I'll let you explore those on your own. Remember you can always chat with Olark's live support for help when it comes to setting up new features. They're great to work with and incredibly knowledgeable from my experience.
Reporting Features For The Novice & The Pro Marketer
When it comes to reporting, Olark makes it so easy to setup tracking that you literally just need to check a checkbox to activate Google Analytics tracking (assuming you already have Google Analytics installed). If you don't use Google Analytics to track your website performance, you might want to join the twenty first century, it's never too late. Here is a link that shows you how to get Google Analytics tracking going for your website.
If you do have Google Analytics installed, all you need to do is click on integrations from your Olark account dashboard. Click on "Configure" when you're redirected to the next page.
On the following page, scroll down and then click on the Google Analytics icon. From there, simply check the 2 check boxes, then hit save. When you're finished, you're done configuring the link between Google Analytics and Olark, wasn't that easy?
Olark's built in communication with Google Analytics will allow you to see event data in your behavior reports. When you use Google Analytics to measure the performance of your Google marketing efforts for yourself or your clients like I do, you can do wondrous things.
First, you can see many different types of event actions based on what actions are taking place when users engage the chat feature on your website. If you see my example below, you can view event data that tells you how many times a user received a message labeled as a specific event. There are other events that tell you when a user sends a message to the chat operator. I like to track the events that are triggered when a user sends a message to my chat operator because that means that the user is communicating with my representatives.
If you spend money on advertising, SEO or promoting your website in general, you can start to track the amount of chats messages that users send via Google Analytics. If you couple this with phone call tracking and transaction tracking, you can start to get a better sense for your marketing performance based on conversions. Tracking conversions means tracking engagements that matter to you as the website owner. Typically, phone calls, emails, transactions and chats are tracked as conversions when you have a professional campaign management team for marketing initiatives. I have most of my client accounts setup to track their daily click budget which can be used to calculate the cost-per-conversion which is very effective for reporting purposes. If you'd like to setup conversion tracking for Olark conversations like I do, follow the quick video tutorial below.
If you take the time to setup conversion tracking, you'll be able to use Google Analytics to see how many chat conversations are being generated over time and even which traffic sources are generating them. If you use Google Adwords, you can even see which keyword the search engine user typed in before finding your website and chatting with you. Below is an example of Google Analytics reporting with conversion tracking setup for chats. On the linear graph you can see the number of new users in dark blue and the number of chat messages received in light blue dating back to January 1st, 2017.
In Conclusion
After working with Olark for several years, I've realized they offer one of the most easy-to-use (and setup) live chat solutions out there. I've probably worked with about 10 other solutions because of my clients at my marketing agency that come to me with pre-existing chat solutions. Most of the free chat solutions are either too difficult to setup or not feature-rich enough for my liking. Simply put, you get what you pay for in life but Olark is extremely affordable and competitively priced. I also noticed some of the chat solutions out there aren't as light-weight as Olark which helps keep the page speed low. As a search engine marketer, I always try to use applications and additions that are not going to worsen page speed which is another reason why I recommend it over other chat solutions. If you don't use a chat solution, take it from me and try out Olark's free trial to see how you like it. Thanks for reading!
About The Author